GDU O2 is designed for everyone, combining extreme portability, 4K camera with high resolution image capturing and 3 axis stable video capturing, advanced sensors and onboard computing capability and ease of use, to be the go-to option for your everyday drone.
O2 has total portability with unique slide-arm technology, 4K HD Camera + 3 Axis Stable Gimbal, dual obstacle avoidance sensors, GPS and Glonass connectivity with 20 satellites, 1 km video transmission distance, 20 minutes of flight time, vision recognition, vision positioning, advanced follow me mode and cutting-edge smart features.
Packing Including:
Drone x 1,
Remote Controller x 1,
Battery x 1, Charger x 1,
Extra Propellers,
Extra Cables,
User Manual,
Warranty Card.
4K CAMERA + 3 AXIS STABILIZED CAMERA GIMBAL
O2 has one of the world's smallest 3-axis stabilized camera gimbals that can capture amazing footages in 4K. The perfect combination of small body size and the power 3-Axis gimbal allows you to truly unfold your creativity wherever you go.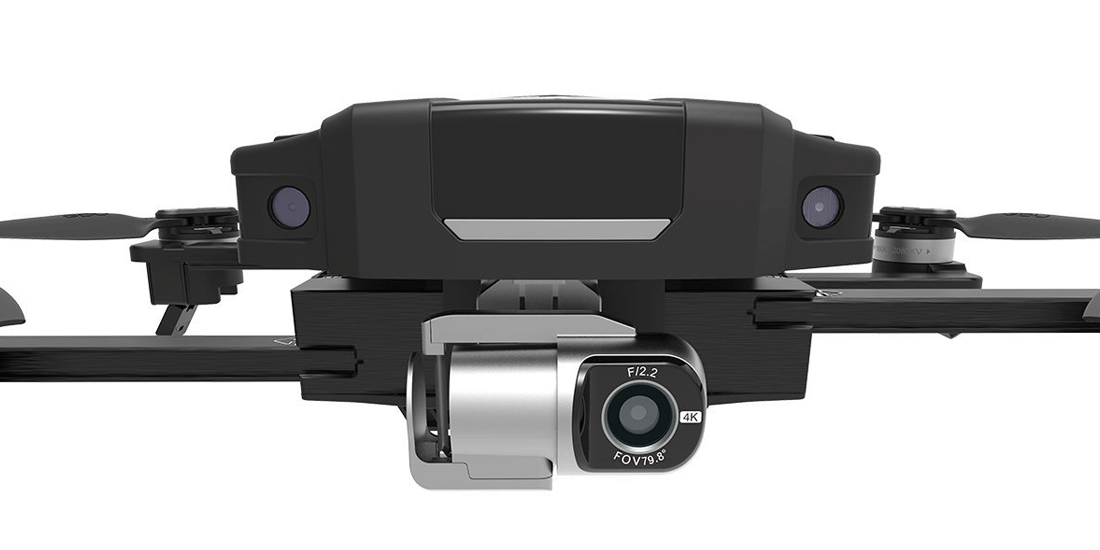 SLIDING-ARMS TECHNOLOGY
The O2's sliding-arms design allows the props to hid inside the drone body during transit,taking up less space and giving us room to include the controller and the drone into one easy-to-carry package. Not only is the O2 extremely small, it is tough. Using Aviation Aluminum-Alloy, it has the most robust propeller arms in its class.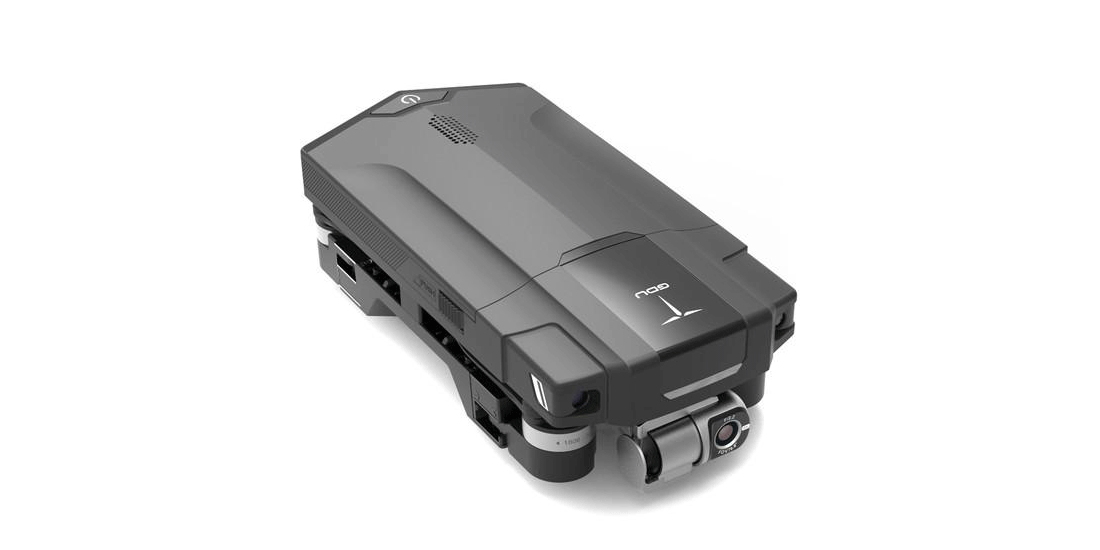 SMART SHOT
O2 includes a full pack of smart features so you can fly and get creative. O2 includes the trace and circle modes, Gesture recognition for photo and video shooting, Rocket Mode, Dronie Mode, Circle Mode, Burst Shooting, Time-Lapse, Slow-Motion, Smart Video Mode, Return to Home, Smart Selfie Mode and Digital Zooming Capture.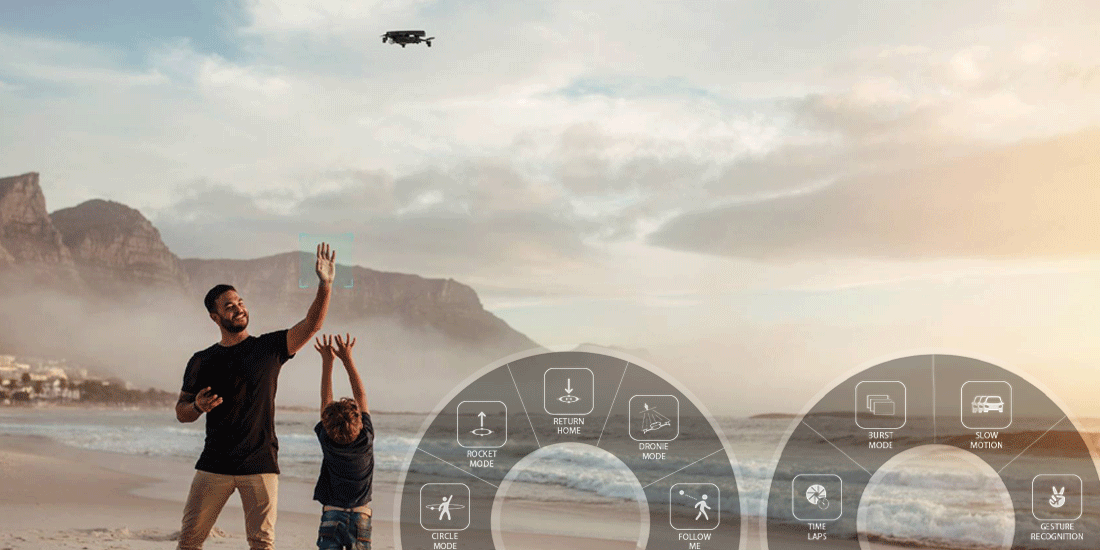 OBSTACLE AVOIDANCE
The Binocular Obstacle Avoidance System helps O2 to see the objects in its path and stop at safe distance automatically. Now you can focus on the shots without worrying running into things.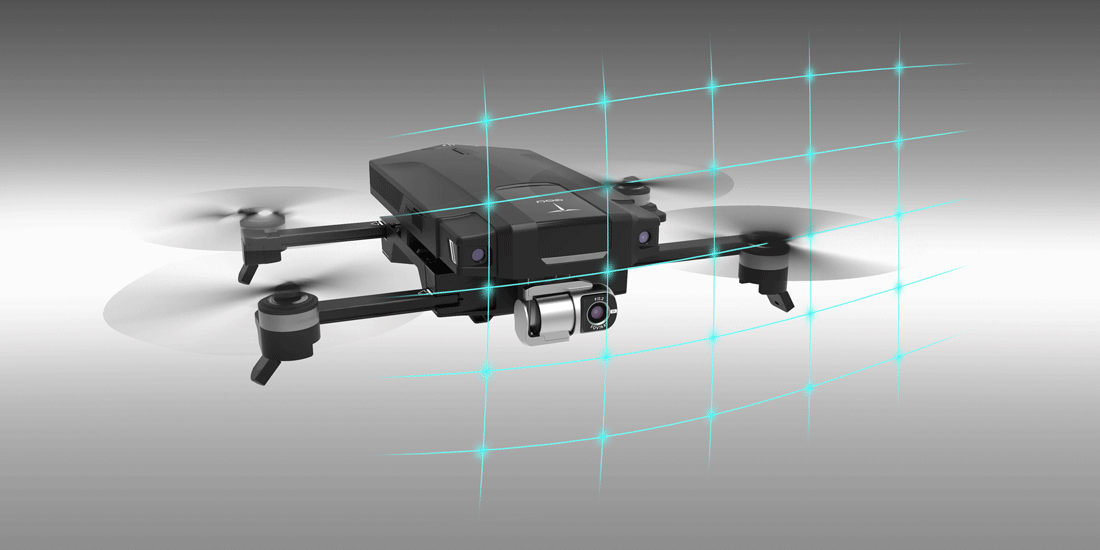 VISION POSITIONING
The vision positioning system allows the O2 to fly stable indoors and outside, and helps it recognize objects below to facilitate safe landings.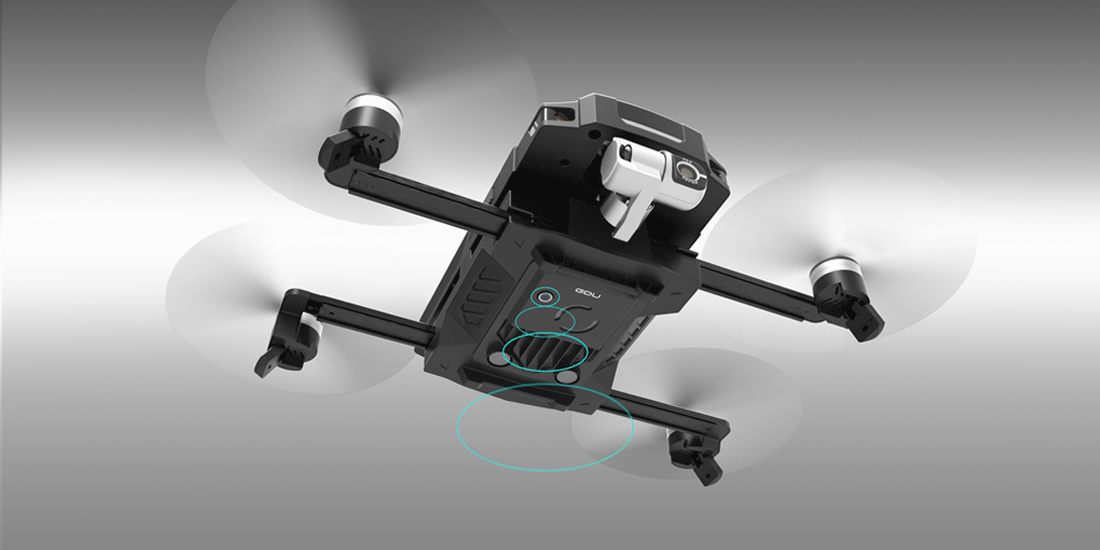 HD 720P VIDEO TRANSMISSION
The onboard Qualcomm Snapdragon 801 processor is designed to support sharper image capture, faster processing, better battery life up to 20 minutes flight time and more advanced connectivity that extends image transmission up to 1 km.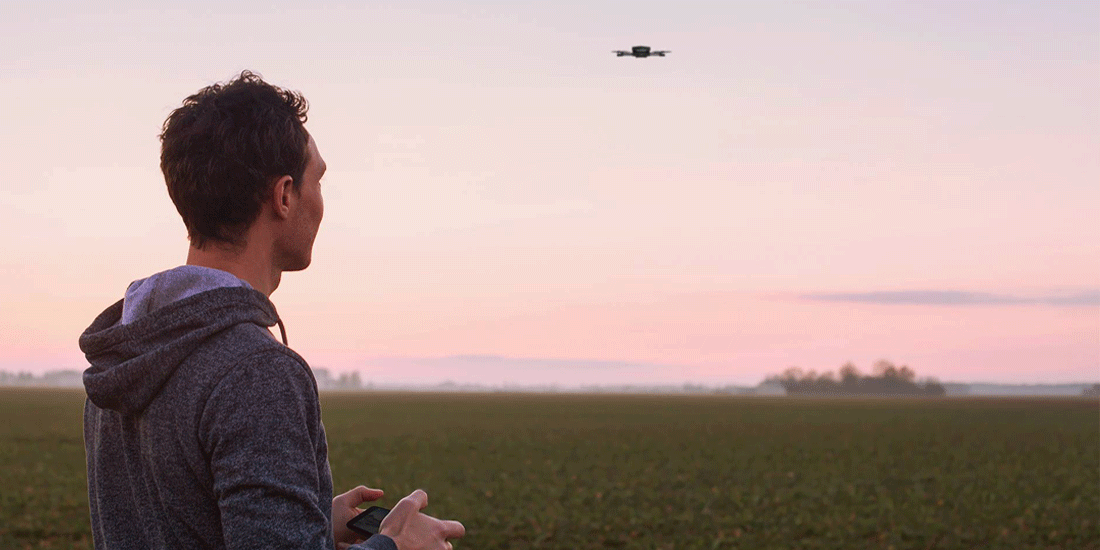 GDU Mini APP
We've developed an all new GDU Mini App for O2 to make it more compatible for your everyday life. It allows you to connect to the drone faster, see he view dearer, perform all smart functions and even fly the drone without the remote. Its build-in Editing and Sharing function is a fast lane for you to connect with your friends and share your excitement via social media.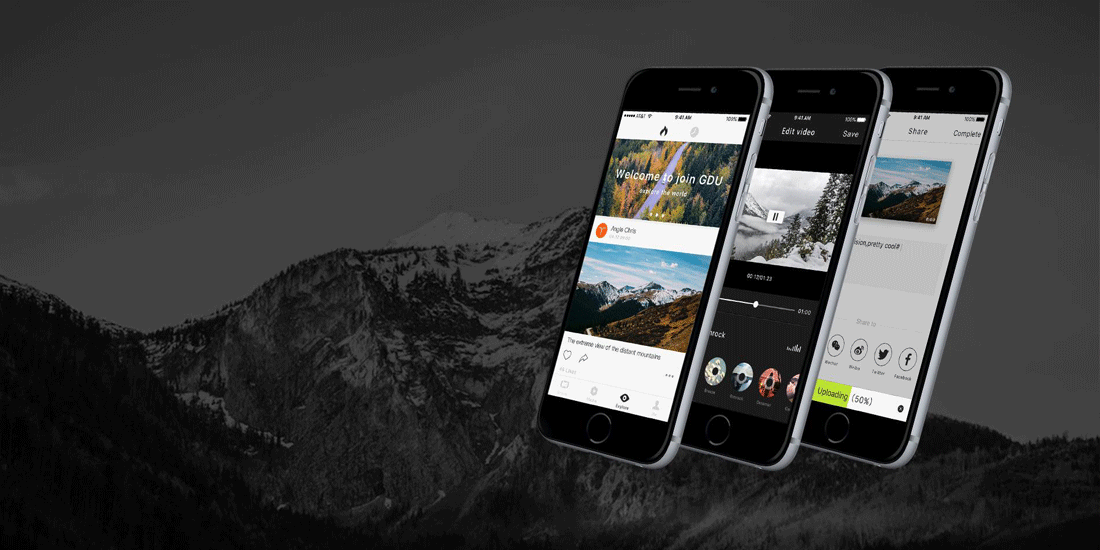 Technical Data
-----------------------------------------------------------------
Drone 
Dimension: 7.3*2.04*3.66 in 
Weight: With Battery 1.60 lb
Max. Horizontal Speed: 33.6 mph 
Max. Ascend Speed: 11.2 mph 
Max. Height Spead: 11482 ft 
Hovering Time: Without Prop. Guard 20 mins (With Prop. Guard 15 mins) 
Operating Temperature: 32℉ To 104℉ 
GPS Module: GPS and GLONASS 
Firmware Update: Update Through App 
RTH: Support 
Wind Resistance: 12mph
Gimbal
Design: 3-Axis Gimbal 
Pitch Range: -90° To 0°
Camera
Sensor: 1/3 Inch CMOS 13MP 
Lens: FOV 79.8°, equivalent focal length 25.5mm F2.2 
Distortion: < 1.5%
ISO Range: Auto 100-1600 
Shutter Speed: Auto 
Max Photo Resolution: 4208*3120 
Video Resolution: 4K: 3840*2160 @30fps; 1080P: 1920*1080 @30fps; 720P: 1280*720 @30fps
Photo Format: JPG 
Video Format: MP4.
Image Transmission
Transmission Distance: 0.6 mi 
Transmission Resolution: WiFi Live View 720P @30fps 
Both models:
App: IOS / Android
Remote Controller
Remote Frequency: 5.8 GHZ 
Control Distance: 0.6 mi 
Capacity: 1200 mAh 
Both models: 
Working Time: 1.5h 
Operating Temperature: 32℉ To 104℉ 
Working Voltage: 7.6V 
Connector Interface: Lightning, Micor-Usb, Type-C


Build-In Memory
16 GB
Format By App, PC
Mobile App Control
Control Distance: 260 ft
Image Transmission: 720P/30fps
App Function
Obstacle Avoidance System: Yes
Trace: Yes
Circle: Yes
Gesture Recognition V-Gesture: Photo; Palm: Video
Smart Shot: Rocket, Dronie
Burst Mode: Vertical, Dronie, Circle
Digital Zooming Capture: 5 Times Zooming
Time Lapse Video : Yes
Slow Motion Video: Yes
Sharing To Social (Wechat/QQ/Weibo/Facebook/Twitter)
Charger
Voltage: 13.05V
Charge Time
Intelligent Battery : < 2h
Remote Battery : < 2h
Charge Both Intelligent Battery + Remote Battery: < 2.5h
Battery Capacity
Intelligent Battery : 4000 mAh
Remote Battery: 1200 mAh
Vision System
Forward Vision System
Obstacle Avoidansce System: Adjustable Within 2 ft to 50 ft
Operating Environment: With Clear Texture And Adequate Lighting (lux>15, Common Room Light)
Downward Vision System
Vertical Precision Range: 1 ft to 9.8 ft
Horizontal Precision Range: 1 ft to 26 ft
Operating Environment: With Clear Texture And Adequate Lighting (lux>15, Common Room Light)
1.We not support Credit Card payment method.
2.If you have any question please feel free to contact us by email : ecommerce@gdu-tech.com